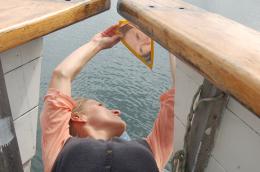 Phoenix Test Flight
Phoenix Test Flight is both a part of the series Moving Spaces - going places and a preproject for a sensory, site-specific and audience interactive performance by the Aarhus performance company Wunderland. With the help of 11 international artists and a university researcher, director Mette Aakjær is expanding her investigation of interactive, intimate, transformational spaces that invite audiences to come closer than ever.
During the two-week investigation period at the old wooden ship harbour in Aarhus, test audiences are invited several times to experience the experimental one-on-one journeys through various harbour spaces, inside and outside, beside, on, and in the water.
Participants: artistic director and performer Mette Aakjær (DK), performer Cindy Rudel (D), performer Nina Matthis (S/Serb), visual consultant Sigrid Astrup (N), technical innovation team Rune Brink, Carl Jensen and Mads Gensø Gundersen (DK), dramaturg Sarah John (AUS), composer and sound designer Thoranna Bjørnsdottir (IS), writer Sonja Thomsen (DK), performer Helga Rosenfeldt-Olsen (DK), performer Karin Bergstrand (S), consultant and performer Barbara Simonsen (DK), researcher and PhD in interactive dramaturgy Thomas Rosendal Nielsen (DK).
See also: 
http://www.wunderland.dk/index.php/performances/phoenix-test-flight